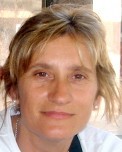 Psychologist, Master in Systemic Pedagogy, Gestalt therapist and expert in Family Constelletions following Bert Hellinger's method. I was born in Murcia, Spain in 1965 and have lived since I was 6 years old in Mallorca. I´m married and have 3 children. Professional dancing and afterwards the practice of Aikido opened my interest in health, beginning with the Japanese "Sei-Tai" Medicine related to the practice of "Kazugen" (spontaneous regeneration movement), and later through Psychosomatic Medicine. After several years of work in a center for mental illnesses, I began my training in Gestalt Therapy and in Family Constellations in the "Institut Gestalt" of Barcelona and participating in intensive trainings with Bert Hellinger. I understand Aikido, "Sei Tai" and Gestalt more as life philosophies than as techniques. They all share in common the same principles:
"help people to recognize their real nature and know that this wisdom is inherent to all human beings … perhaps we only need to remember it then and now."
With Family Constellations I understood that many times histories may repeat once and again, as time goes by, and that in case of an individual conflict the person must be seen within his family and transgenerational system.
Actually I specialize in Psychology of the Systems, with Bert Hellinger's approach in the CUDEC University of Mexico City; a groundbreaking and innovative approach in Psychology.

Contact: María Carmona. Tel. (0034) 607 242 180