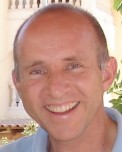 Physician and psychotherapist with 20 years experience, especially in the field of Psychosomatic Medicine and as an investigator of the holistic conception of human beings. I was born in Quito, Ecuador, in 1963 and lived many years in Mexico, Germany, Ecuador and Spain. Since 1994 I have lived in Mallorca. I'm married and have 2 children.
My training began with Aboriginal Medicine from Ecuador. After this I studied Medicine and Surgery at the University of Salamanca, Spain. These two different viewpoints provided a search that led me to Psychosomatic Medicine and Psychotherapy, studying first "New Medicine" as a direct student of Dr. Ryke Geerd Hamer and his
"New Medicine" and studying afterwards in The School of Psychosomatic Medicine of psychoanalyst, Prof. Samí Alí in the University of Toulouse, France. At the same time I worked in various hospitals in Mallorca within the department of General Medicine and on the Emergency Unit. For the last 15 years I have maintained a practice in Psychosomatic Medicine and Psychotherapy. After completing a Master degree in Psychotherapy and Clinical Psychology in The University of Alcalá, Spain, I deepened my knowledge in Bert Hellinger´s systemic vision of Family Constellations. Thus my vision of the psychosomatic was complemented so that it turned into what I now call Psycho-Systemic Medicine.
I am a professor of Psychosomatic Medicine in The Andean University "Simón Bolivar" in Quito, Ecuador, and teach various training programs in Bolivia, Sweden, Germany and Spain. I am a member of the Spanish Association of Psychosomatic Medicine and Clinical Psychology. I believe Medicine to be an art and the doctor an implement of love.

Contact: Johannes Beckmann. Tel. (0034) 600 547 194.